Dimensions
View 100% Of Your Spend In A Business-Relevant Framework
With CloudZero Dimensions, sort your cloud spend by customers, products, features, teams — and whatever else matters to your business.
Build Any Dimension, And View Your Spend However You Want
Combine standard and custom Dimensions to sort your spend by whichever parameters matter most to your business.
Complete, Real-Time Allocation
CloudZero uses CostFormation®, a domain-specific language to allocate 100% of your spend — regardless of your tagging quality.
Accurate Shared Cost Allocation
Say goodbye to rough estimates and spreadsheet math. CloudZero uses business- and system-level telemetry data to accurately allocate shared costs.
Multi-Dimensional Spend Views
Layer Dimensions to get nuanced views like: cost per product per customer, cost per feature per product, cost per microservice per team, and more.
Explore Dimensions, And Pinpoint Spend Drivers
Once you've created your Dimensions, use CloudZero Explorer to drill into them and view complete underlying resource costs. See exactly what's driving your cloud spend — and make informed cost-efficiency changes.
Drill into cloud spend
Rank spend by % or $ change
Quickly answer questions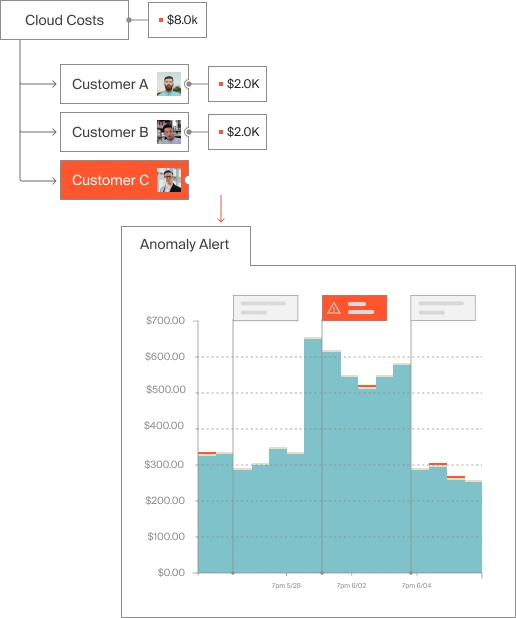 Tap Into The Power Of Complete Allocation
CloudZero Dimensions are the most powerful cloud cost segmentations on the market. Why? Because CloudZero CostFormation® can allocate all cloud, PaaS, and SaaS costs — including taggable, untaggable, shared, and multi-tenant costs. No one else can do that as quickly and accurately.
100% cost allocation
Edit Dimensions in real time
Accurate shared cost allocation
Get Maximum Time And Resource Granularity
CloudZero lets you see all spend, from all Dimensions, down to the resource level, and at a level of hourly granularity. So, if a product's costs tend to spike for two hours each weekday afternoon, you can see it, investigate which resources are driving it, and determine whether it's necessary.
Used cost per customer to refine GTM strategy
CloudZero allowed us to work with our product marketing team on how to continue to package our products in a way that so our customers always receive maximum value, while also supporting our business model. It has also helped us make earlier-stage development decisions to support strong cloud economics.

Martin Loewinger
Vice President of Cloud Engineering
Read full customer story
Gained extremely granular cloud cost visibility
With other cost tools, we could get a very broad view of cost or line-item accounting, but we couldn't traverse between micro and macro levels. The level of detail CloudZero gives is really helpful.
Michael Weinberg
Infrastructure Engineering Manager, SeatGeek
Read full customer story
Reduced cloud spend by 23% and powered advanced analytics
Analytics is a key next step in the cloud cost intelligence framework. Our most powerful CloudZero users are already adept at using the platform to find cost insights, but Analytics extends that same power to anyone with a vested interest in keeping our cloud use cost-efficient. We've only just begun to see how significant of an impact this can have on our cloud ROI.

Robert Mason
CTO, Applause
Read full customer story
Supercharge Your FinOps Maturity
Cost Allocation
CloudZero CostFormation® allocates 100% of your spend — regardless of your tagging quality — giving you complete visibility, in a framework gauged to your business structure.
Cost Optimization
CloudZero provides a full suite of cost optimization capabilities: out-of-the-box discount analytics, human- and platform-driven savings insights, expert coaching, and integrations with industry-leading automation services.
Financial Control And Predictability In The Cloud
Eliminate wasteful spending, ship efficient code, and innovate profitably — all in one platform.