We recently explored what the cloud is and how it has evolved over 60 years. Yet, cloud computing emerged into what it is today in 2002, when Amazon, the e-commerce giant, sought a more efficient way to expand its online marketplace.
So, it is not surprising that the company's cloud services subsidiary (AWS), which launched in 2006, is the largest Cloud Service Provider (CSP) today.
This CSP marketshare guide shares the details of the cloud infrastructure market, the dominant players, and more, including:
Table of Contents
What Is A Cloud Service Provider?
A cloud service provider rents out the combination of technology, infrastructure, and expertise to other companies and individuals for the purpose of cloud computing, including online storage, compute, and networking over the Internet.
Cloud service providers own and operate multiple data centers worldwide that house the physical infrastructure required for cloud computing. These include servers, hard drives, and cooling systems.
Anyone, anywhere, and at any time can access this cloud infrastructure by connecting to these data centers and purchasing as much capacity as they require on a pay-as-you-go basis (usage-based pricing).
CSPs deliver other benefits, too.
What Are The Benefits Of Using a CSP Vs. Building On-Premises?
Companies often avoid building their own cloud infrastructure because it is expensive, requires extensive expertise, and requires constant maintenance. Many companies prefer not to handle all of this, especially since using a robust cloud service provider delivers more benefits, such as:
Low capital outlay – Customers do not incur large capital expenditures (CAPEX) on infrastructure, but instead pay a low, ongoing fee for their usage.
Faster time-to-market – By not purchasing, installing, testing, and optimizing cloud infrastructure, businesses can produce their products and services much more quickly
Agility – CSPs enable cloud-based brands to pivot faster since they do not need to sell existing infrastructure and purchase updated ones every time they want to explore new markets or lines of business.
Cloud computing services – CSPs deliver Infrastructure-as-a-Service (IaaS), Platform-as-a-Service (PaaS), Software-as-a-Service (SaaS), and Serverless Computing
Optimal cloud delivery models – Businesses can choose between public, private, hybrid, and multi-cloud cloud services from cloud service providers.
Pay-as-you-go pricing – You pay only for the capacity of cloud resources you use. No provisioning, upfront payments, or long-term contracts are required either.
Managed services – A CSP grants various degrees of control over the infrastructure they rent out. This infrastructure can be fully managed by your CSP or largely configured by your engineers.
Disaster recovery – A CSP can backup your data in multiple regions across the world, which you can retrieve in case of a data center failure in one region or your on-premises system.
CSPs also test, update, secure, and optimize cloud infrastructure and its support services on your behalf. This frees up your time, money, and effort to focus on other areas of your business. But the cloud model has its challenges.
What Are Some Challenges Of Using A CSP?
The top challenges of using cloud service providers include:
Data confidentiality
The public cloud depends on a network of third-party owned, shared, and remote servers to process, store, and manage data. That is, rather than local storage devices a single customer owns and controls, such as an on-premises data center or office computers. Businesses concerned about securing business secrets, customer data, and compliance information find this concerning.
Data security
Cloud computing over a CSP's infrastructure involves transferring data remotely and accessing it from any computer or device with an internet connection. Yet, CSPs are not infallible, so hackers can infiltrate their systems and compromise customer data, resulting in reputational damage, losing customers, and lawsuits.
Infrastructure control limitations
To optimize the performance of their cloud services, some companies prefer more control over the backend. Yet, there are varying degrees of limitations to this depending on the cloud service provider.
Vendor lock-in
Over-reliance on a single cloud service provider can be problematic. For example, if your current CSP changes its pricing, or makes other unfavorable changes, it may be expensive and tedious to migrate your applications to another CSP.
Speaking of migrating to a different CSP, what are the options in 2023.
What Is The Market Share Of The Big Three (AWS, Azure, GCP)?
Amazon Web Services (AWS), Microsoft Azure, and Google Cloud Platform (GCP) are the big three cloud service providers today. Together, they take up 66% of the worldwide cloud infrastructure market, an increase from 63% the previous year, according to Synergy Research Group.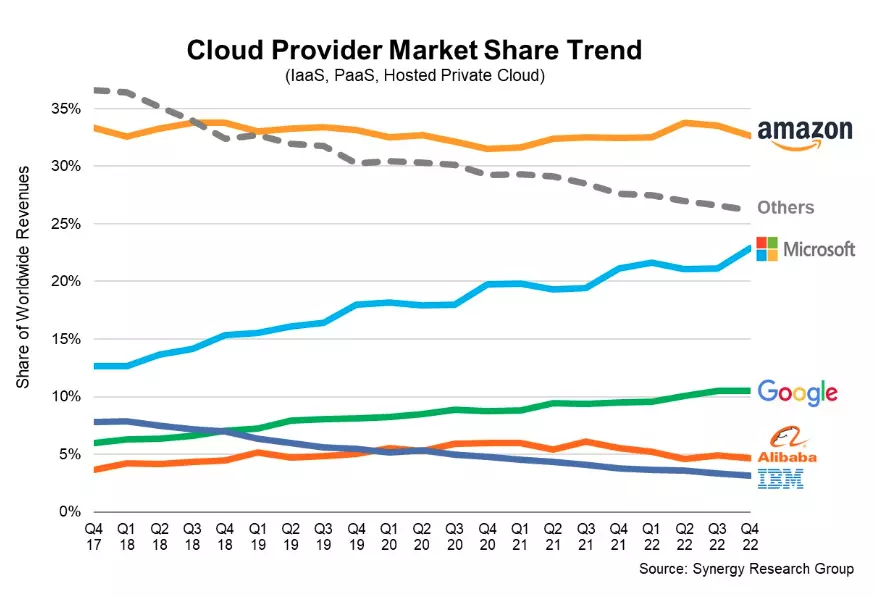 Credit: Cloud service providers market share at the beginning of 2023 – Synergy Research Group
The survey found that the entire cloud computing market generated over $227 billion in revenue across the previous 12 months.
Other findings by the Grand View Research forecast the US cloud computing market will grow at a 13.1% CAGR across 2023 to 2030.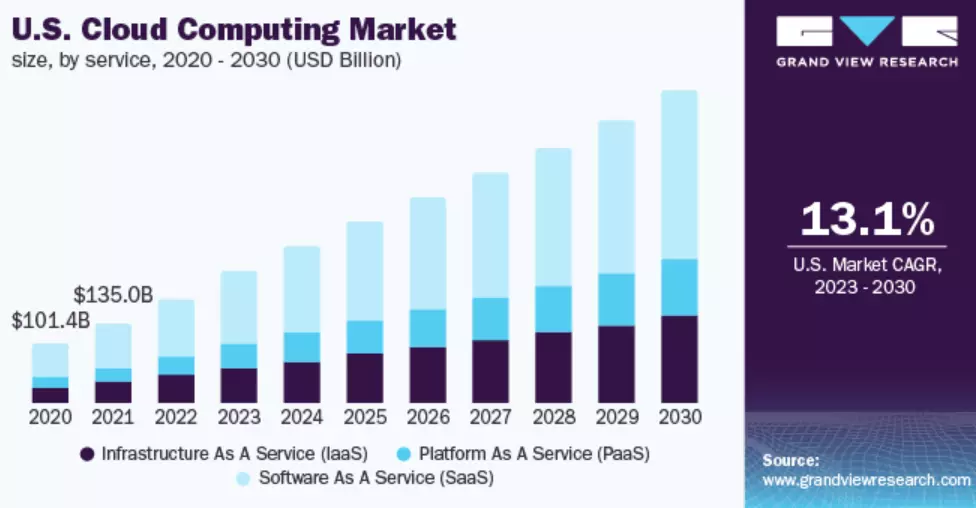 Credit: Cloud computing marketshare in the US – Grand View Research
That means these giants will still grow some more. And so will the following smaller players, who are carving out niches for themselves.
11 Top Cloud Service Providers In 2023
The following cloud providers power the most innovative companies in the world — well, at least those that have part or all of their operations running in the cloud.
1. Amazon Web Services (AWS) – Infrastructure-as-a-Service (IaaS)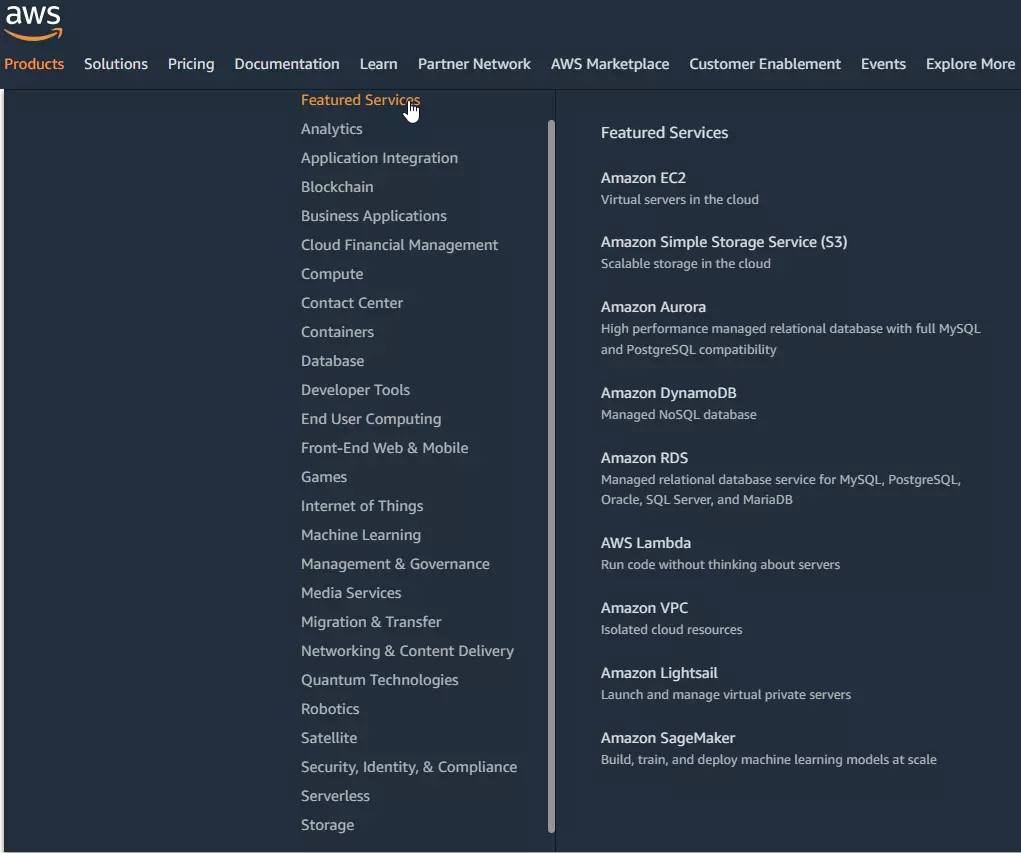 Amazon Web Services (AWS) delivers over 200 cloud services across multiple industries and technology categories. However, AWS is best known for its emphasis on IaaS, supported by its Elastic Compute Service ( Amazon EC2 for compute), Simple Storage Service (Amazon S3 for storage), and Relational Database Service (Amazon RDS for databases).
With over 100 availability Availability Zones across 31 geographic regions, AWS currently takes up over 34% of the global cloud computing market share. Also, while AWS is best-known for its highly scalable public cloud offering, it also supports on-premises, private cloud, hybrid cloud, and multicloud deployments. AWS offers a mix of free, affordable, and premium services, and is popular for its quick start-up process.
2. Microsoft Azure – Hybrid cloud and enterprise cloud services
The Microsoft Intelligent Cloud delivers AWS-like cloud computing services through the Azure Cloud in over 116 Availability Zones. The Azure cloud delivers over 200 cloud services in the form of Infrastructure-as-a-Service (IaaS), Platform-as-a-Service (PaaS), Software-as-a-Service (SaaS), as well as Edge and Serverless computing.
Azure was first announced two years after AWS launched in 2006, but launched in 2010. It has since gained market share to 23% from AWS by appealing to enterprises, hybrid cloud embracers, and companies that mainly use Microsoft products, including Office 365.
3. Google Cloud Platform – AI, ML, and Kubernetes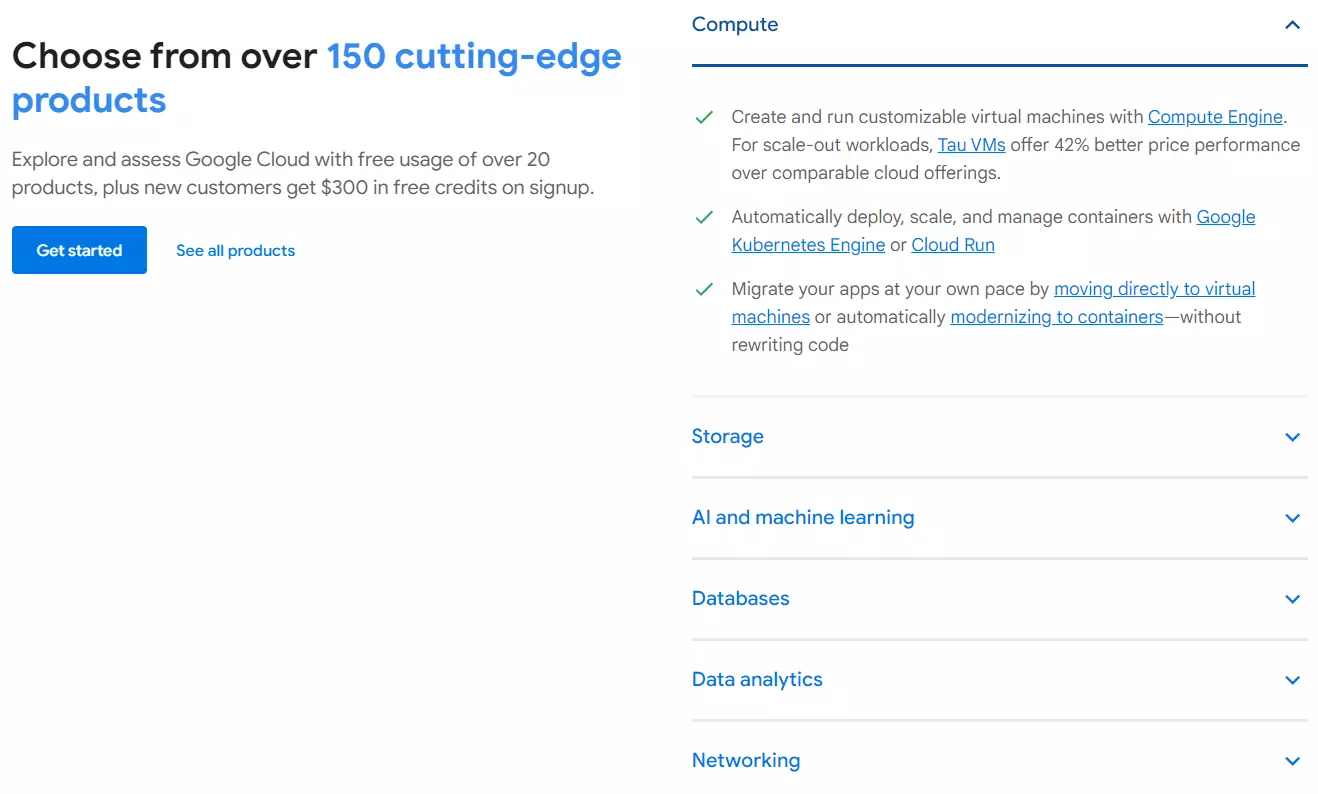 The Google Cloud Platform offers similar services to Azure and AWS, although it has carved a niche for itself through innovations across Artificial Intelligence (AI), Machine Learning (ML), Data Analytics, and Kubernetes, the popular container management platform.
GCP is also popular with smaller companies who routinely use Alphabet's services such as Google Workstation (Docs, Spreadsheets, Gmail, etc), Google Drive, YouTube, and Google Console.
4. Alibaba — Largest cloud service provider in Asia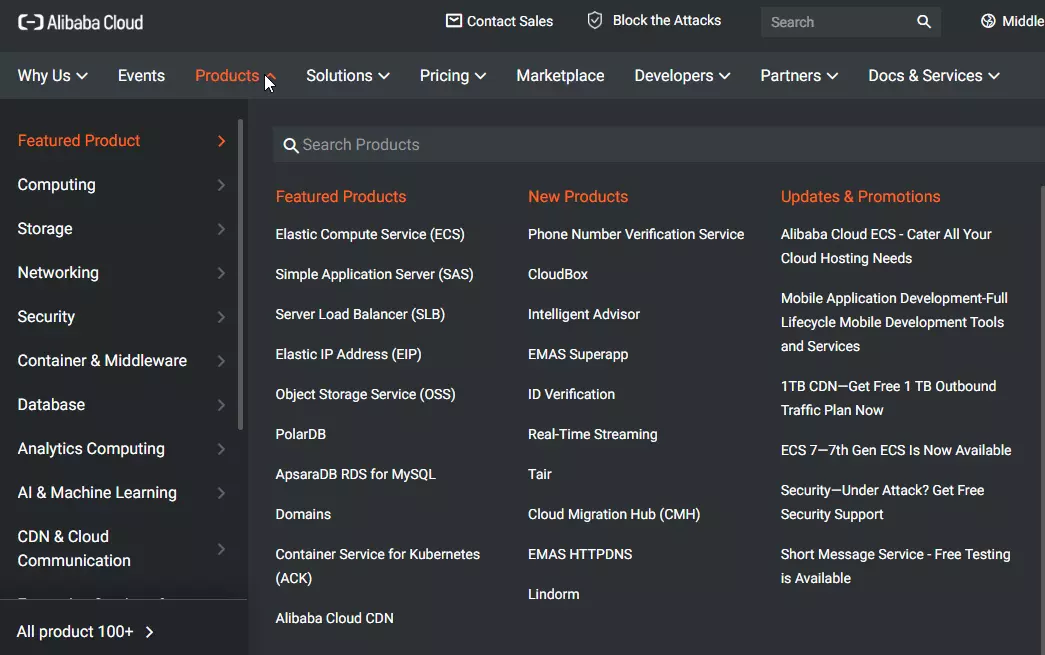 If your business operates in Southeast Asia and is considering cloud adoption, Alibaba will be one of your top choices. Like AWS from Amazon, Alibaba evolved from the Alibaba e-commerce arm, growing to take up about 5% of the global cloud services market since 2009.
Alibaba Cloud supports major operations for both large and small enterprises, SMEs, governments, and non-profit organizations.
5. IBM Cloud – Multi-cloud CSP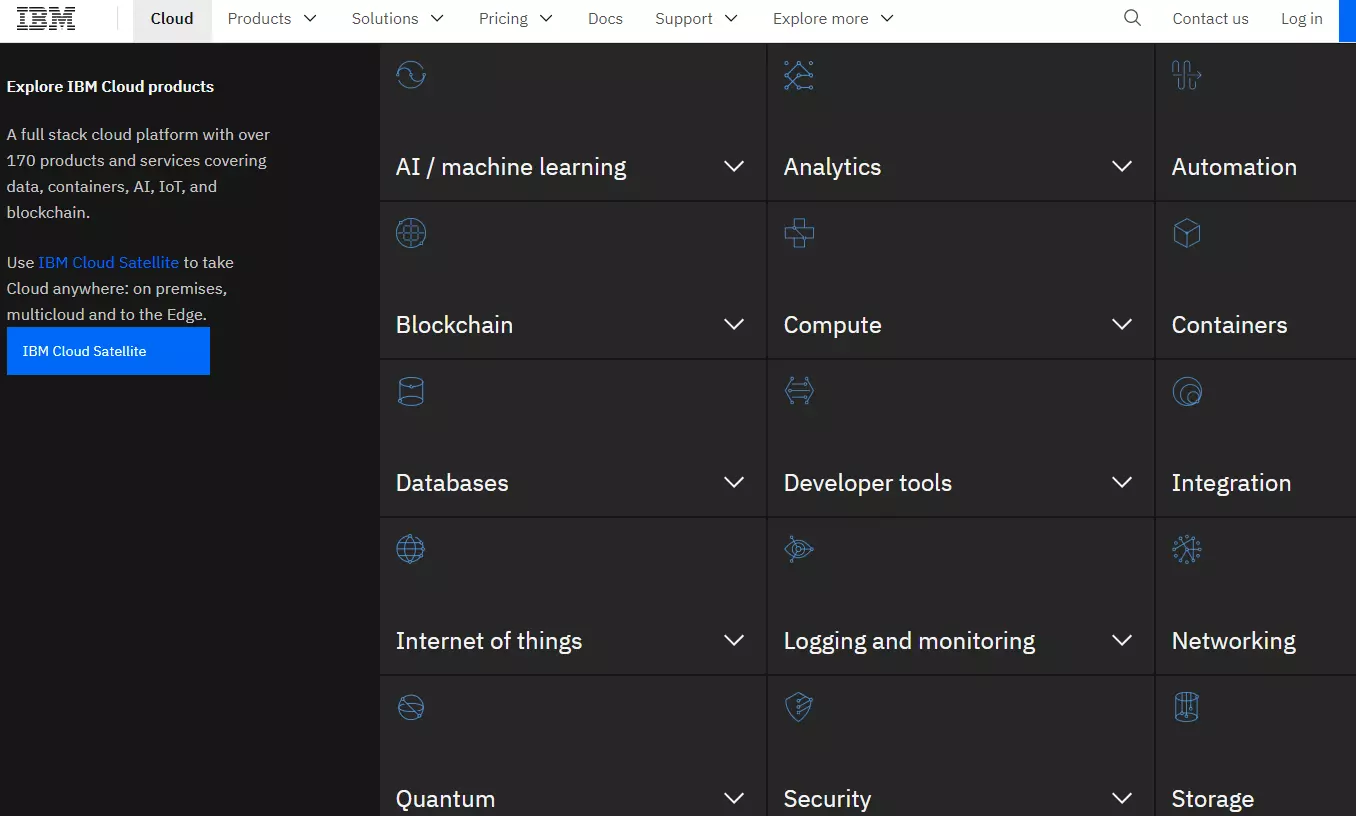 IBM Cloud Services help businesses that would like to stick to a familiar, on-premises environment transition to digital brands without much hassle. The CSP supports about 4% of the cloud computing services market, offering over 170 products across On-premises, hybrid cloud, and multicloud deployments.
Like the big four providers, IBM is also big on managed Infrastructure-as-a-Service (IaaS) and cloud migration services.
6. DigitalOcean Cloud – Cloud computing tools for SMBs and developers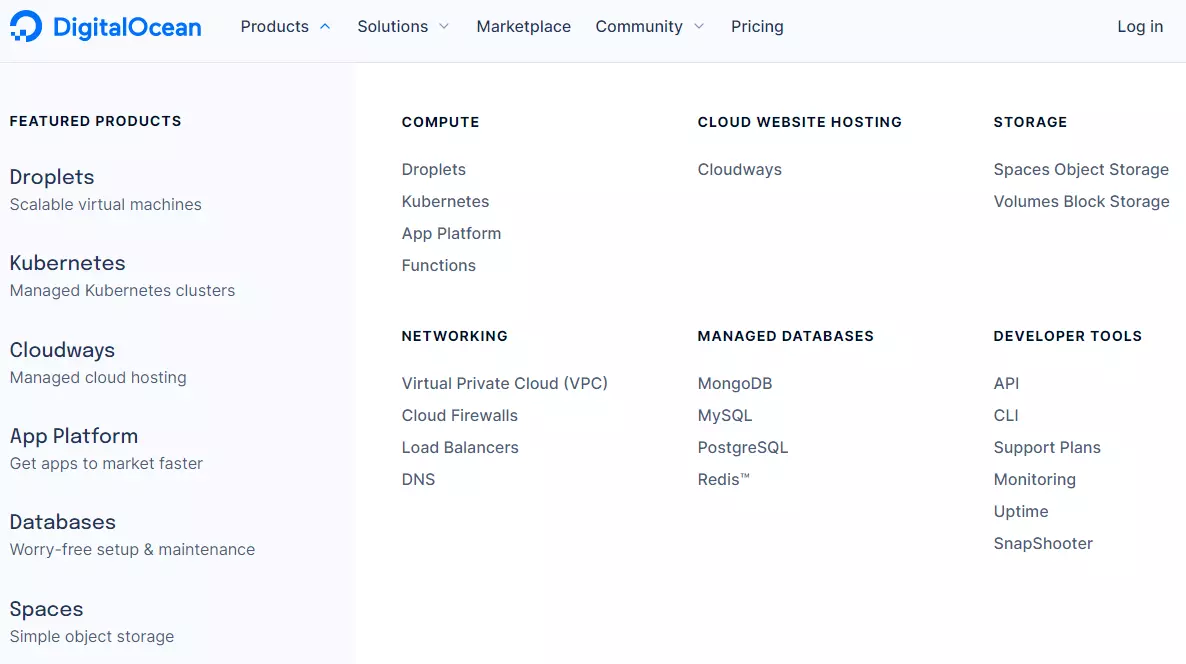 The DigitalOcean Cloud platform provides developers with a platform for deploying and scaling projects on multiple computers simultaneously. It is the third-largest hosting company worldwide, and has two primary product offerings; compute and storage.
Like others here, Digital Ocean delivers IaaS, although with a focus on small and medium businesses, and charges its cloud computing services on a pay-as-you-go model.
7. Salesforce Cloud – Cloud-hosted services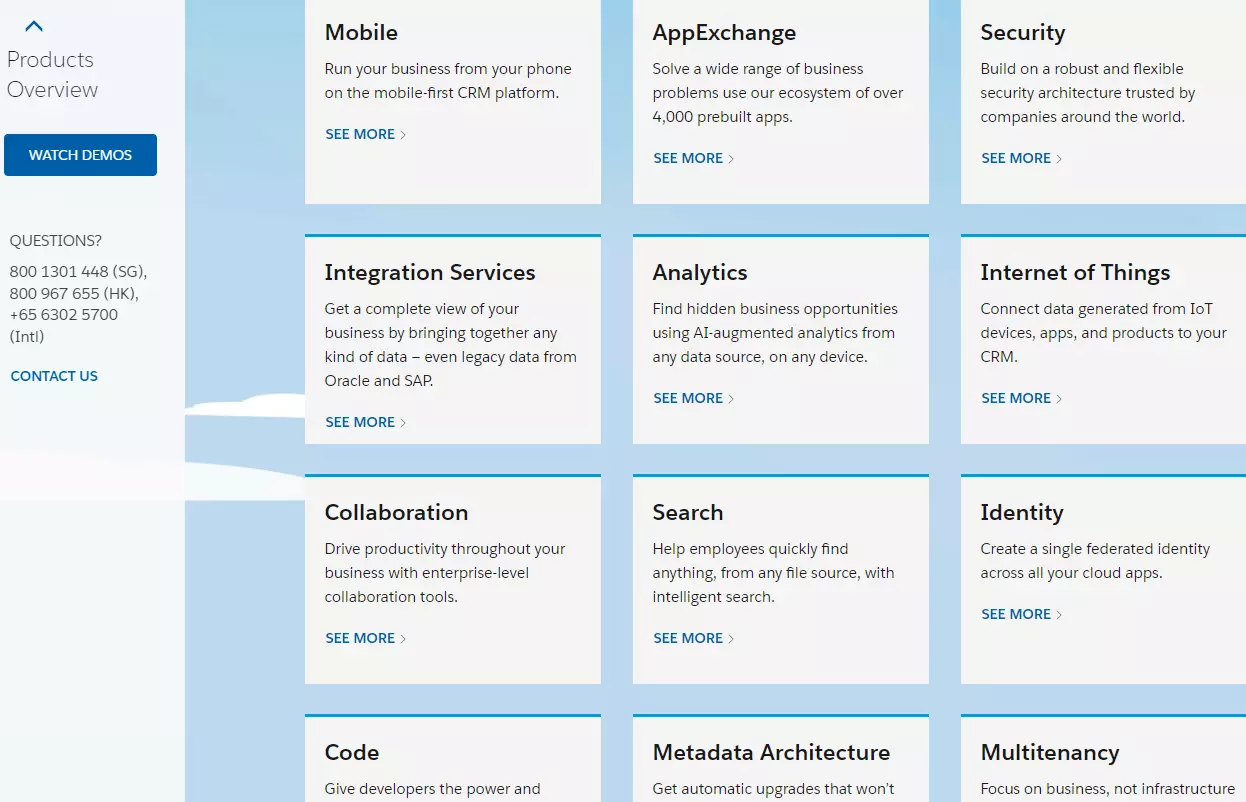 Salesforce pioneered the Software-as-a-Service (SaaS) model in its current form in the late 1990s. Today, the CSP offers different types of clouds in the form of cloud-based applications across marketing, sales, experience, analytics, commerce, and services.
Salesforce Cloud services also power the company's best-known product; customer relationship management (CRM) suite of tools.
8. Tencent Cloud
The Tencent Cloud provides a host of cloud computing services, from cloud virtual machines to cloud file storage, and more. Like Alibaba Cloud computing services, Tencent is a major player in China. Yet, the CSP runs across 26 regions, operating over 70 Availability Zones in Northeast and Southeast Asia, South Asia, Oceania, Europe, as well as North and South America.
9. Oracle Cloud Infrastructure (OCI) – All-around CSP with a focus on databases, custom apps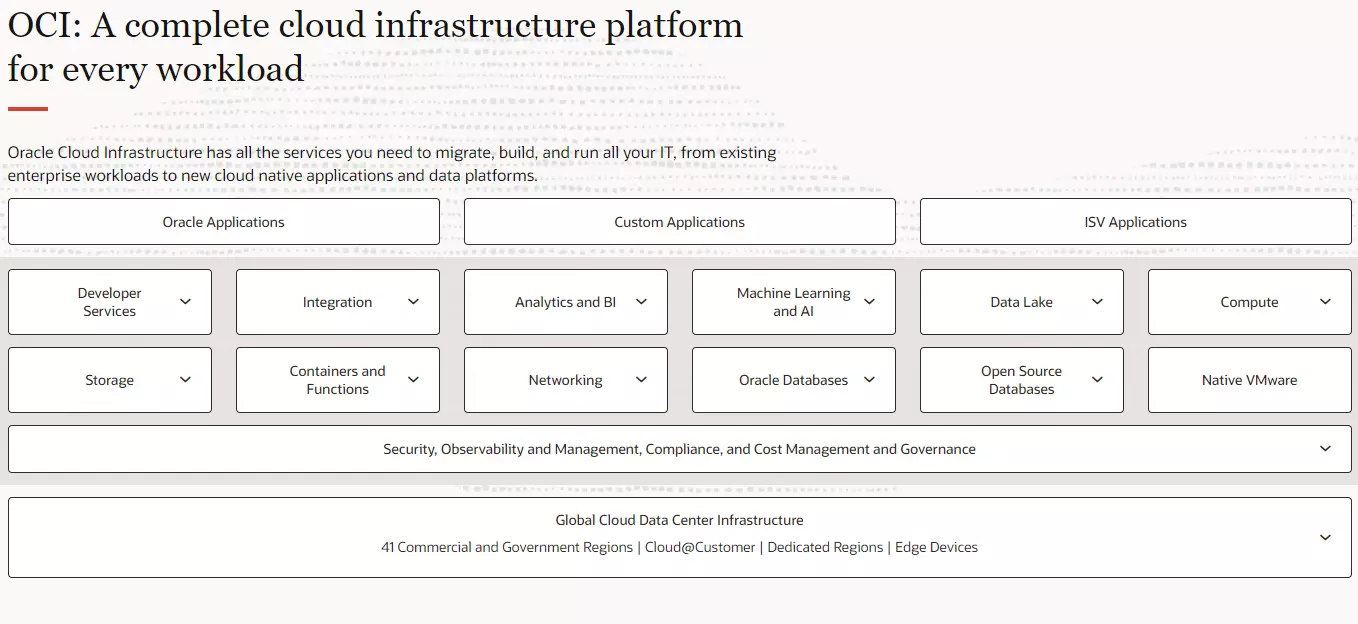 Oracle was the first vendor to offer IaaS, PaaS, and SaaS cloud delivery models within a single platform. With OCI, you can access a range of cloud services wherever you are. Oracle cloud services include on-premises, hybrid cloud, public cloud, and dedicated Cloud@Customer. It also delivers multi-cloud solutions, including Oracle Database Service for Microsoft Azure as one example.
Like the big four CSPs, OCI's distributed cloud portfolio is available across multiple regions worldwide and supports pay-as-you-go-pricing.
10. Huawei Cloud – Going Global
After capturing 18% of the Chinese cloud market, Huawei has its sights on delivering a vbroad range of cloud computing services across 170 countries. This plan to become a global CSP makes the Huawei Cloud a contender for providing your cloud services in the future.
11. Dell Technologies Cloud – Virtualization Via VMware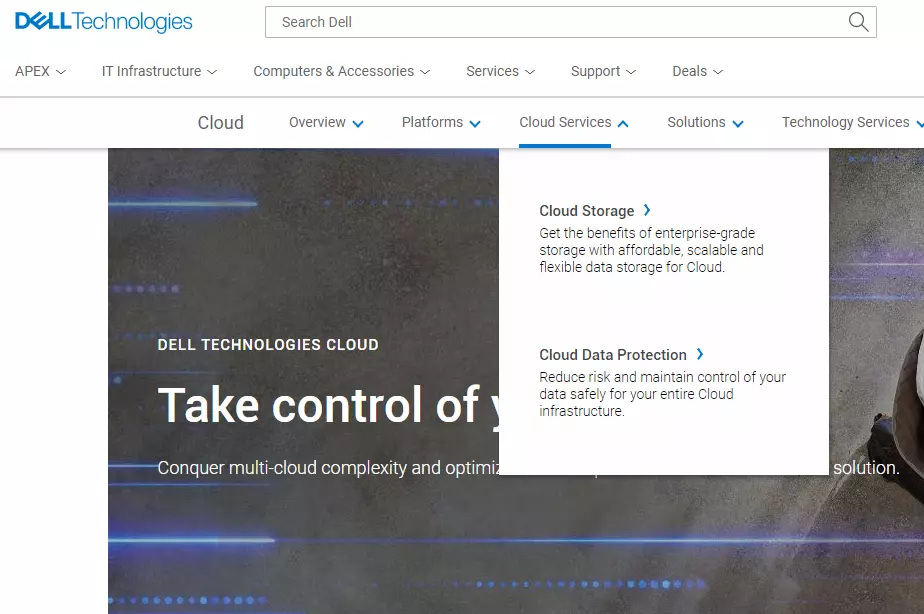 Using VMware software and Dell Technologies infrastructure, Dell provides an integrated multi-cloud platform. And, as a hybrid, multi-cloud provider, the company emphasizes storage and data protection services. The Dell Technologies Cloud is enterprise-grade, providing highly scalable and secure cloud services.
Honorary Mentions
Hewlett Packard Enterprise (HPE) services: HPE is pushing Edge-to-Cloud computing and hybrid cloud deployments.
Linode Cloud services: Focusses on providing virtual machines, managed databases, Kubernetes, and cloud storage.
What Next: View, Understand, And Control Your Cloud Costs Per CSP With CloudZero
Most cloud cost tools struggle to collect accurate cost data. That's partly because they over-rely on manual tagging, even when most companies don't have perfect cost allocation tags.
Yet the more companies deploy workloads across multiple cloud service providers' platforms, the more they'll need a cloud cost intelligence platform that delivers easy-to-digest and actionable cost insights.
CloudZero's cloud cost intelligence approach enables you to:
Obtain, enrich, analyze, and act on comprehensive cost data from any of the big three cloud service providers.
Collect, analyze, and share hourly cost information in hybrid/multi-cloud deployments (AWS, Azure, GCP).
Measure the costs of cloud services such as Snowflake, MongoDB, Databricks, New Relic, and Kubernetes with context.
Measure and track the costs associated with supporting a particular customer, product, feature, project, environment, and more such dimensions.
Use CloudZero Advisor to pick the right instances for your AWS, GCP, or Azure workloads.
Analyze individual tenant costs in a multi-tenant environment.
Ensure your engineers receive timely Slack alerts regarding anomalous cost trends in their systems. This way, they can intervene to prevent overspending.
Yet, reading about CloudZero is nothing like seeing it in action for yourself.
to see why brands like Drift (saved $2.4 million), MalwareBytes, and Remitly rely on CloudZero to help their organizations better understand, manage, and control their cloud spend.