New Relic provides full-stack observability and monitoring. It provides almost every type of system monitoring under one platform. This includes monitoring tools for infrastructure, application performance monitoring (APM), synthetics, user, log, mobile, network, and Kubernetes components.
DevOps, security, and business professionals use these capabilities to detect anomalies, analyze root causes, and fix software performance issues.
In addition, it supports over 500 integrations to help you seamlessly integrate it with any stack configuration. But how does New Relic pricing work?
Table of Contents
New Relic Pricing Explained
The New Relic pricing model is usage-based. New Relic bills you based on the amount of data you ingest and the number of billable users you assign.
New Relic switched to this " only pay for what you use" model from its earlier subscription-based and host-based pricing models towards the end of 2021. Customers no longer need to pay separately for each capability in New Relic.
New Relic's pricing, however, has been described as confusing, expensive, and unsuitable for microservices. Meanwhile, New Relic asserts that it offers engineering teams that build and manage distributed and hybrid applications 3X value for money.
So, how does New Relic's billing method actually work?
In the next section, we'll share the following:
How New Relic pricing works, so you can tell what you are paying for
How to optimize your New Relic costs.
How to automatically break down your New Relic spend, so you can tell who, what, and why your cloud costs are changing. That way, you can tell exactly where to cut costs and where to increase investment to get the best returns.
How Does New Relic Billing Work?
New Relic offers both a free forever plan and paid options. Its usage-based pricing model charges based on data ingest and users. In New Relic, data ingested is the size of data that the system ends up storing after trimming and transforming your raw data.
1. New Relic pricing by data ingested
New Relic offers 100 GB of free data ingest per month. Once you exceed that amount per month, the observability platform will charge the extra data ingested based on which data plan you are on.
Credit: what is billable data ingested on New Relic?
The original or standard data plan charges $0.30 per gigabyte of data you send to New Relic beyond the free limit. It costs $0.35 per GB for an EU region data center. This covers the costs of ingesting, analyzing, and alerting on telemetry data (metrics, events, traces, and logs) with dashboards, standard data retention periods, and querying.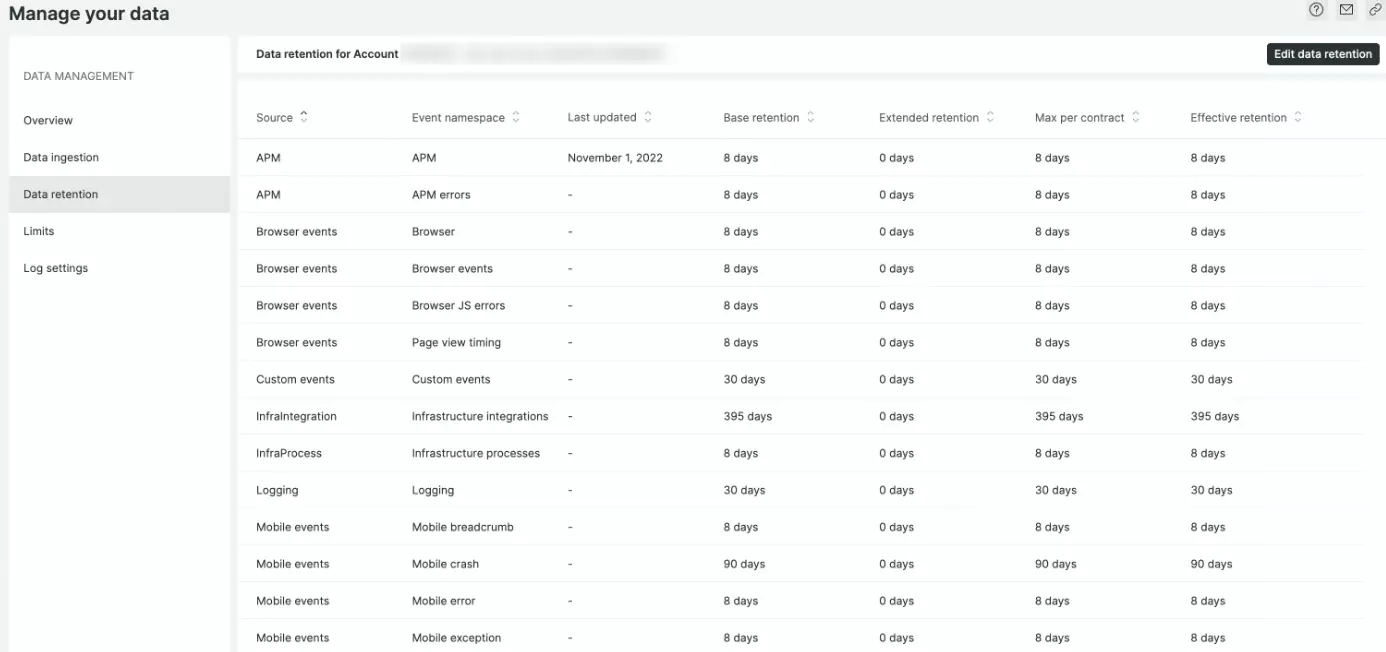 Credit: Default data retention periods on New Relic's original data plan
The Data Plus option charges $0.50 per GB of data you ingest into New Relic. It costs $0.55 per GB if you choose to store your data in the EU region. The extra $0.20 get you advanced New Relic Data Plus features, including:
Extend data retention to 90 days over your existing default retention levels
3X maximum query limit (analyze up to 100 billion data points each minute and one trillion data points every 30 minutes on Data Plus versus 10 billion data points each minute and 300 billion data points every 30 minutes in the original data option)
2X maximum runtime per query (120 seconds on Data Plus vs 60 seconds on the original data plan)
HIPAA and FedRAMP compliance
Logs obfuscation rules
Enhancements to streaming and exporting historical data
Multi-cloud provider support (launching soon)
Vulnerability management (in public preview)
Here's an example of how your New Relic Data Plus account may look like:
Credit: Extend data retention periods with New Relic Data Plus
Something else. To use New Relic's Data Plus plan, you must have its Core version of usage-based pricing and be using its Pro or Enterprise edition. More on that in the next section. As you move up the data plans, what changes are the retention period and how many checks or operations you can perform on the ingested data.
2. New Relic pricing by user
New Relic offers three types of users: Basic, Core, and Full Platform. The exact price you'll pay depends on the number of users and permissions assigned to them. These user types differ based on their capabilities and how often they use them.
New Relic Basic user pricing
These are free, regardless of the number you add to your account and the type of New Relic organization plan you use (Standard, Pro, or Enterprise).
A basic user is usually an engineer, product manager, or C-Suite who does not have a full platform or core user capabilities but is interested in seeing application/system performance metrics through a shared dashboard or getting more details about an alert. New Relic includes Basic users with every edition.
New Relic Core user pricing
It starts at $49 per month for the Standard edition of New Relic. Pro and Enterprise editions offer custom pricing.
Core user is ideal for a developer who wants access to advanced log management capabilities, telemetry data in their IDE, New Relic custom apps, errors inbox, etc. Get it for developers who require insight into how their code performs across pre-production and production environments. Or, who sometimes need to work with DevOps and SRE on various issues.
Full platform user
New Relic offers one free full platform user, regardless of which New Relic Edition you pick. You get one full platform user with the Standard Edition, then $99 per user after. You can add up to five users with a Standard Edition.
Full platform users are full users because they have access to all New Relic capabilities. They can monitor, troubleshoot, and tweak their entire stack to optimize it — from application performance monitoring (APM) with distributed tracing to infrastructure monitoring with Pixie and synthetics monitoring.
New Relic designed it for any engineer keen on ensuring production environments remain up and running.
Here's a quick summary of the differences between the three New Relic user types:
Now here are the permissions each New Relic user type (Basic, Core, Full Platform) has by Edition (Standard, Pro, Enterprise):
User permissions by New Relic edition
3. New Relic Free Plan
New Relic autostarts each customer on a free forever plan. No credit card is required. The New Relic free plan offers:
100 GB per month of data ingested for free
Unlimited free Basic Users (can query and alert on your ingested data)
One free Full Platform user with access to all features.
If you need to add more team members (with Core or Full Platform permissions) or ingest more data, just add a credit card. You'll be charged for any usage above the free tier.
The Standard edition of New Relic requires no commitments. You can cancel at any time. You are also free to commit to an annual funds pool as your usage increases, to take advantage of volume discounts on New Relic. This provides other benefits, such as monthly roll-overs which you can use to cover temporary usage spikes.
How Much Does New Relic Cost, Really?
The focus of this guide has been on how New Relic calculates your observability platform costs — the capabilities you pay for. This section covers how New Relic Editions package those capabilities into three levels.
Here are the three New Relic pricing tiers you can choose from now that you know how the billing process works.
New Relic pricing tiers by Edition
Data, number of users, user permissions, admin capabilities, and the level of customer support you want influence New Relic's pricing tiers. You can dive deeper into how each New Relic pricing tier is different here.
Here's an example based on admin capabilities and support levels:
How To Understand And Optimize Your New Relic Costs The Easy Way
The free demo account from New Relic lets you see how you consume resources each month. Consider taking advantage of the offer and using the account for at least a month to determine the volume of data ingests, what user types, and, ultimately, what pricing tier (edition) fits your needs.
While New Relic is a powerful monitoring platform, it does not break down your costs into costs dimensions like:
Cost per individual customer
Cost per software or product feature
Cost per team
Cost per project
Cost per deployment
Cost per environment, and more.
Something like this:
Yet, with this level of granularity, you can tell exactly who, what, and why your observability platform costs are changing. In turn, you can better pinpoint where to cut costs to reduce your New Relic spend — or optimize it in any other way. If you want this level of actionable cloud cost intelligence, CloudZero can help.
Plus, CloudZero provides a tiered pricing model that's steady, predictable — and won't vary month to month.
to see how CloudZero for New Relic works.