Amazon Web Services (AWS) is still the largest cloud service provider today. With more than 240 cloud products, this Amazon.com subsidiary offers cloud, on-premises, serverless, and edge computing services.
But bigger isn't always better, and we'll share why, the top AWS alternatives to consider today, and more.
Why Consider AWS Alternatives?
If you're an early cloud adopter, you probably migrated to AWS due to an initial lack of options. Perhaps you are migrating out of AWS to find more niche cloud services with a specialized provider. Or, you may have another reason altogether.
Below are some of the major reasons we've seen compel customers to move to AWS competitors.
It's overwhelming to have too many options
We just checked. AWS offers more than 240 full-featured cloud services under multiple cloud product categories.
The provider also offers different services for similar use cases. And there's a whole stretch of instance types and pricing options to choose from as well. So, when you need a wide range of services from one provider, this is a great option. But the myriad of choices can be a bit too much to figure out sometimes.
Low cloud cost visibility
A little while ago a Gartner survey revealed that 95% of AWS customers had challenges understanding the AWS bill. In fact, optimizing costs has been one of the top reasons customers have left AWS for a while now.
Our State of Cloud Cost Intelligence Report confirmed that understanding, controlling, and optimizing cloud costs is a top challenge for AWS customers.
Higher cost of ownership
Some customers say AWS is expensive, both for running cloud applications and for managing it. Of course, this may or may not be true in your use case. In fact, the following YCombinator thread may give you some insight into the type of conversation you may need to have before you migrate to AWS.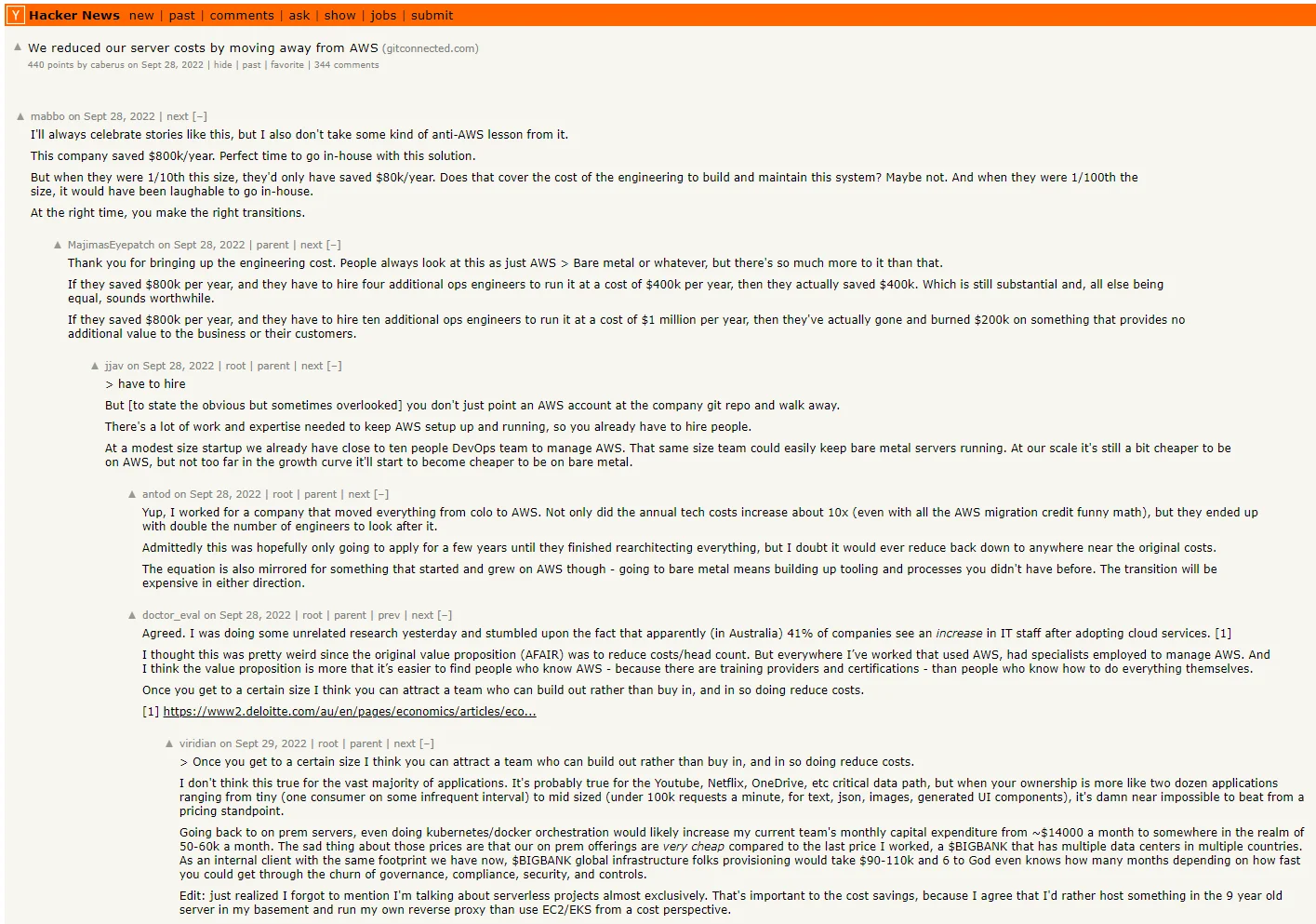 Others, such as Prerender and Fly, have shared how they reduced their cloud costs by up to 80% by leaving AWS.
Now, to help you figure out if your AWS Total Cost of Ownership makes sense, here's our guide to calculating your AWS TCO step-by-step.
Irresponsive customer support
This one's to be somewhat expected. The bigger the platform, the higher the likelihood that support may not be the most responsive to individual client needs. However, AWS offers premium support plans, from the developer level (technical) to the enterprise level (ongoing business).
Perceived security gaps
Security has always been a priority for AWS. Recent events, like the CapitalOne SSRF breach, however, have caused some alarm bells to ring among AWS customers. Moreover, recent security enhancements at competitors such as Azure and Google Cloud Platform may attract some AWS customers.
Prevent vendor lock-in to AWS
As we'll see in the following section, different cloud providers offer unique strengths you may want to explore without locking yourself into one provider. Based on Cisco's Global Hybrid Cloud Trends Report, one of the top reasons companies deploy hybrid cloud or multi-cloud strategies is to tap these different strengths without vendor lock-in.
You've outgrown AWS
Although AWS offers virtually limitless cloud computing capacity, you may need to move out at some point. For example, Dropbox move out of AWS and into its own custom-built infrastructure to gain more control over its technical, cost, and compliance aspects.
Cloud repatriation
There is no way you have been living under a rock these past few years. As such, you know there's been a trend toward migrating cloud workloads back to on-premises environments, especially due to cost overruns. You can check out our thoughts about cloud repatriation here.
How To Choose The Best Cloud Service Provider For Your Business
Before we get started, here are some considerations we made. These are factors you'll also want to assess before committing time, money, and effort to any of the AWS alternatives highlighted here.
Total Cost of Ownership – Depending on your workload, some cloud providers are more cost-efficient than others. Oracle Cloud Infrastructure, for example, is up to 50% cheaper than Amazon Web Services for Oracle workloads and apps.
Supported services – These days, most cloud providers offer similar services. But the few unique services they offer could make a big difference for you. For example, Vultr delivers high-performance servers and VPS, no bells and whistles to ease management, and competitive prices.
Reliability – You want a cloud provider that has a good track record of uptime – and can back it up with a 99.95% (or better) uptime guarantee.
Cloud security – IBM research shows that a single data breach now costs over $4.5 million to resolve. So, consider the security options available from a vendor, including data encryption, DDoS protection, and robust Identity and Access Management (IAM).
Technical support – You should be able to get help from your cloud provider when you need it. Smaller providers, like Linode and Vultr, offer more responsive, 24/7 support without requiring a premium support plan.
Compliance – If you need to comply with certain regulations, such as GDPR, ISO, and more, you'll need to choose a cloud provider that already meets those standards.
Scalability – You'll want a cloud provider that supports automated scaling up or down (vertical) and in or out (horizontal) as your workload requirements change. Call it diagonal scalability.
Performance – Whether you want to run real-time gaming servers or a streaming service, your cloud provider should have the low-latency and good performance combo to handle either without any issues.
Data center location – More isn't necessarily better. Ideally, the cloud provider should have a close-by data center to help reduce issues such as latency. However, more locations could make disaster recovery and data backups easier, reducing single points of failure.
Vendor lock-in – Choose a platform with an Open Source element, if you want to integrate multiple solutions, including running a multicloud environment. You want to be able to easily move your data and applications to another provider if necessary.
With that out of the way, here are the top alternatives to AWS that are worth the while.
Top 10 AWS Alternatives To Consider Today
Taking into account all the factors we've discussed, here are some of the top AWS competitors you can consider right away.
DigitalOcean – Best for developers and non-enterprise businesses
1. DigitalOcean – Best for developers and non-enterprise businesses
DigitalOcean provides a more simplified and tailored cloud infrastructure platform for developers and small and medium businesses. You can expect a simpler API, UI, and CLI compared to AWS. Plus, DigitalOcean is a Linux paradise for developers striving to use fast SSD-based virtual machines and cloud website hosting (Cloudways).
DigitalOcean also offers both managed and self-managed cloud VPS services. And you can expect to run managed Kubernetes with a 99.5% SLA.
In particular, it is a developer-friendly cloud service provider. DigitalOcean, for instance, has some of the best documentation and technical support available. For intensive workloads, it also provides scalable machines and ample network bandwidth.
Globally, DigitalOcean operates 15 data centers in 8 regions.
That's less coverage than AWS. However, if you are covered, you can use compute, managed databases, block/object storage, serverless, PaaS offerings, CDN spaces, web hosting, and more cloud products for a lower price and even less complexity than AWS.
2. Kamatera – Affordable cloud platform with managed VPS
The Kamatera cloud platform offers managed and unmanaged services, including website hosting. The provider supports a wide range of use cases at a good performance level. Be sure to use Kamatera's 30-day free trial to see if it works for you.
You can configure Kamatera servers in more than 150 ways to match your application. As the workload increases, you can scale out to hundreds of servers per second.
You can also run 100+ operating system images (Windows or Linux) on the platform. And you can add load balancers, private networks, firewalls, virtual desktop environments, and more.
However, the limited global coverage (18 data centers in four regions) may limit your ability to perform multi-level data backups and disaster recovery. But Kamatera offers a 99.95% uptime guarantee.
The Kamatera cloud infrastructure platform also offers a user-friendly control panel, faster customer support, and enterprise-grade cloud infrastructure. Nonetheless, both Kamatera and AWS require you to pay a premium to get helpful support.
Overall, expect Kamatera to be a high-performing, secure, but cost-friendlier alternative to AWS for organizations of all sizes.
3. Vultr – Powerful, cost-effective cloud hosting for SMBs
Vultr delivers a powerful VPS and web hosting platform for small and medium businesses. Like Kamatera, it offers quick configuration (as quick as 60 seconds with One-Click Deploy) and simplified management.
But unlike Kamatera, Vultr offers more data center locations (32 vs 18), has four more servers boasting over 3.0 GHz, and uses 100% SSD VPS servers (with 100% Intel vCPUs) and storage.
The KVM-based platform also lets you upload your own operating system (ISO); Linux (Debian, Fedora, CentOS, Arch Linux, Rocky Linux), Windows, and FreeBSD. In addition, Vultr grants you root access. That means you can deploy most modern, open-source databases, such as MongoDB and Redis, and web servers, including Nginx, Apache, and OpenLiteSpeed web server.
For security, Vultr adds DDoS protection, adding 10Gbps of mitigation capacity per instance to handle increased load.
We also like that Vultr offers more self-help resources than Kamatera. In addition, support answers questions via email in minutes and they seem more detailed than AWS and Kamatera support emails (and without the premium fees).
If you want an AWS alternative that offers cloud services similar to Vultr, check out OVHcloud.
4. Linode – SMB-friendly IaaS provider with security and CDN background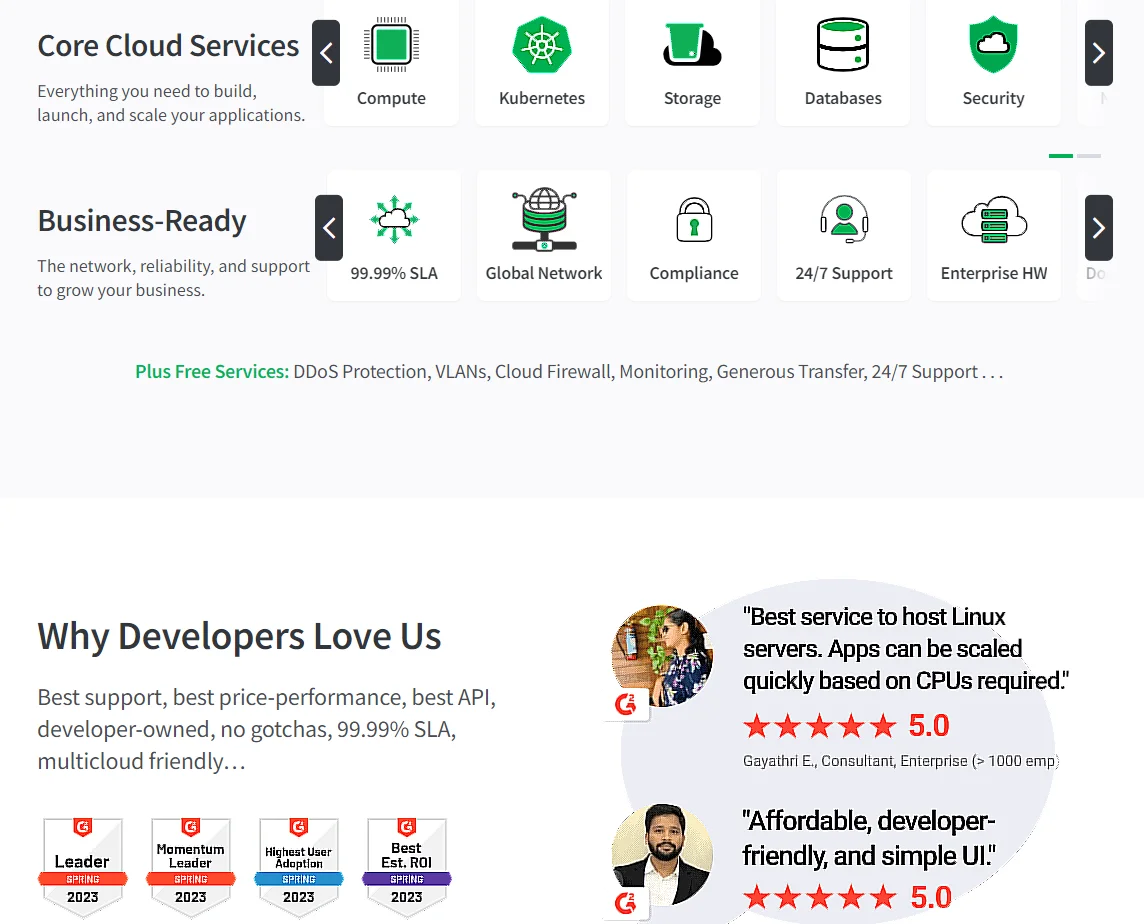 Linode is now part of Akamai's Connected Cloud offerings. This gives it an edge over some other CSPs in terms of cloud security and content delivery network use cases.
Besides, Linode is reputed among developers for its high-performance NVMe-based Block storage, bundled security solutions (DDoS protection and cloud firewalls), and 99.99% SLAs.
If you use Linux servers/virtual machines (VMs), you'll be right at home here, too. Plus, Linode covers over 130 countries with 4,100+ locations, making it one of the most distributed cloud platforms today.
Linode has been the largest independent Open Cloud Provider for over a decade, and it plays well with other platforms. Its Amazon S3-compatible Object storage helps lower the possibilities of vendor lock-in, for example. You'll also have an easier-to-use control panel, APIs, and security solutions than AWS.
In addition, Linode offers more support in terms of developer videos, tutorials, and technical documentation than AWS competitors like Kamatera. It also offers managed services, one-click app installations, and around-the-clock customer support (that is responsive than AWS).
In terms of pricing, Linode offers great value for most applications. The pricing is also simplified (per day or per month billing; pay-as-you-go), which can minimize surprise costs.
5. Kinsta Cloud Hosting – Reliable, high-performance alternative to AWS hosting
Kinsta provides one of the best-managed WordPress hosting services today. In particular, Kinsta offers a more integrated approach to hosting web applications and websites compared to using multiple AWS services and synchronizing them with Amazon Lightsail.
Compared to AWS Lightsail, Kinsta can deliver faster loading times thanks to its dedicated website hosting infrastructure. Maybe that's because the Kinsta platform runs on a completely containerized infrastructure.
The system runs exclusively on Google's Premium Tier network powered by the Google Cloud Platform (GCP). This enables Kinsta to provide a large selection of fast servers across 35 data centers globally vs 13 for Amazon Lightsail.
You can also expect robust security, high-performance web applications, server-level caching, and dedicated resources from the service.
Besides, Kinsta covers all sites with enterprise-grade premium Cloudflare integration for free. That includes DDoS protection, a secure firewall, HTTP/3 support, and a free CDN.
Similar cloud hosting alternatives include SiteGround, Liquid Web, Hostinger, and Hostwinds.
6. VMWare Cloud – Hybrid cloud and Multi-cloud provider for enterprises
Now owned by Broadcom, VMware is best known for its on-premises virtualization solutions. VMWare Cloud, however, provides a cloud computing solution that supports hybrid cloud and multicloud deployments. So, it is a great option if you want to use different public and private cloud providers alongside your on-premises infrastructure.
You can also use VMWare Cloud on AWS to bring this hybrid cloud and multi-cloud integration to your AWS environment. There are several ways in which this will differ from deploying workloads natively on AWS.
For example, VMWare Cloud on AWS delivers superior compatibility, enables you to use a single operational model across public and private clouds, and ensures you don't have to refactor applications when migrating to the AWS cloud.
You can learn more about the differences between VMWare on AWS vs native AWS deployments here.
VMWare also enables you to build and deploy native apps with Tanzu, perform cloud management with CloudHealth, and secure your cloud apps with NSX Distributed Firewall. Pricing and support may be quite a bit like AWS but more simplified and responsive.
Cloudways, Dell Technologies Cloud, and HPE Hybrid Cloud Solutions offer similar options to VMware Cloud.
7. Google Cloud Platform – Best for managed Kubernetes and ML/AI applications
If you are looking for an all-in-one cloud provider like AWS, GCP is the third-largest vendor globally, according to Synergy Research Group.
GCP has everything in one place, from IaaS to PaaS to SaaS. AWS offers more cloud services, data center locations, and pricing options. Yet, GCP is superior to AWS in several areas.
Google, for example, developed Kubernetes, donated it to the Cloud Native Computing Foundation (CNCF), and now offers a managed Kubernetes version through Google Kubernetes Engine (GKE). GKE feels more robust to many developers than Elastic Container Service (Docker-based) and Elastic Kubernetes Service (EKS), both offered by AWS.
Moreover, GCP tends to be more supportive of open-source platforms and tools (Google is still a top contributor to many open-source projects today).
Better yet, Google's extensive background in Machine Learning, Artificial Intelligence, and Internet Search can be valuable to organizations looking to leverage cloud data analytics and Business Intelligence solutions.
However, billing, customer support, and numerous options may still require quite a bit of a learning curve and experience to handle.
Check out our GCP vs AWS vs Azure guide here to compare the two providers in more detail.
8. Alibaba Cloud – AWS' most similar competitor, with a strong e-commerce focus
Today, Alibaba Cloud is the top challenger to AWS, Azure, GCP, and IBM Cloud with its 100+ cloud products. The China-based provider offers public, private, hybrid, and multi-cloud offerings, similar to the US-based players.
But also boasts data centers in six continents, 22 regions, 63 Availability Zones, and over 70 locations globally. That makes it ideal for businesses and workloads of all types and sizes.
Just like AWS (Amazon.com), Alibaba Cloud has a solid e-commerce background (Alibaba.com). So, Alibaba may be a good alternative to AWS if you're looking for something quite similar but less complex.
Alibaba Cloud also offers a range of managed services, including elastic load balancing, object storage, database, and website hosting services.
You can also leverage its robust artificial intelligence, machine learning, and data analytics solutions for your online business or enterprise. Alibaba Cloud pricing is also more competitive, making it an attractive choice for businesses that want high-quality cloud services on a budget.
9. Microsoft Azure – Top AWS alternative for enterprise applications and Windows licenses
Microsoft's Azure Cloud offers startlingly similar cloud services to Amazon Web Services. This includes most of the same concepts that AWS uses, including compute, storage, networking, and web hosting.
With Azure, you get access to the second largest data center network in the world, and in some areas, surpasses Amazon Web Services (for edge computing and CDN).
The enterprise cloud services segment is one area where Azure has almost surpassed AWS or is at loggerheads with it. There are several reasons for this, including the significantly higher cost of Windows licenses on AWS versus Azure.
In addition, enterprise customers have been using Microsoft products, such as Windows and Office, for decades.
In this regard, embracing Azure's virtual desktop and cloud services felt natural and seamless. By taking this approach, they are able to use the licenses and tools they already have, don't have to undergo substantial additional training, and the learning curve is less steep.
It also helps that Azure has been quick to position itself as a hybrid cloud and multi-cloud champion. Besides, Microsoft Azure offers a solid PaaS offering, providing a lot of ready-to-deploy building blocks for AI, ML, analytics, and serverless workloads.
See our AWS vs Azure pricing comparison and guide to discover more differences between these top cloud providers today? Want to compare their data cloud solutions instead? Check out the Snowflake vs AWS vs Azure guide here.
10. Oracle Cloud – An ideal AWS competitor for databases and custom apps
The Oracle Cloud Infrastructure is what would be born if AWS and Azure had a child. OCI combines the advantages of both cloud providers with its own.
Like Azure, Oracle Cloud emphasizes PaaS offerings, custom applications, and high-performance computing for enterprises.
As with Windows licenses, Oracle Bring Your Own Licenses reduces prices for Oracle applications and workloads by half. It's also highly scalable, secure, and offers a wide variety of options at different price points, just like AWS.
However, the Oracle Cloud is even more scalable for enterprise workloads. For example, Amazon RDS for Oracle limits databases to 128 vCPUs (64 OCPUs) and 64 TB in size, whereas OCI's Exadata Database Service delivers up to 8,060 vCPUs and 3.1 PB.
You can also migrate your on-premises workloads to the OCI platform as is. You'll get the exact same services in your data center as in the public cloud, complete with the same billing model and Service Level Agreements (SLAs). As of now, AWS Outposts does not offer either.
The Oracle Cloud is also ideal for running customer service applications, such as CRMs, on top of business intelligence and ERP software, just like Salesforce.
Easily Understand, Control, And Optimize Your Cloud Costs Whichever Provider You Choose
There you have it. Whatever your cloud needs are, you're sure to find the right solution, whether you want to migrate from AWS, move to the cloud for the first time, or need a platform similar to AWS for your hybrid cloud or multi-cloud setup.
Now, here's the catch. You may still find that even the best AWS competitor for you offers confusing pricing, billing, and management tools from time to time. And this can leave you blindsided and vulnerable to surprise bills.
CloudZero can help you understand, control, and optimize your cloud costs across providers – all in one place
CloudZero empowers you to:
View your AWS, Azure, GCP, and Oracle Cloud costs all in one place, presented hourly and per-unit, including cost per customer, per team, per project, per feature, per environment, and more.
Analyze platform costs alongside cloud costs. This includes costs of Kubernetes, Snowflake, Databricks, MongoDB, New Relic, Datadog, and more. Same hourly and per-unit granularity applies here, too.
Get immediately actionable cost insights into your business, not just total costs and averages, so you can avoid unnecessary budget overruns.
Understand your Cost Of Goods Sold (COGS) to protect your SaaS margins. Once you know where to cut costs and increase investments, you'll know how to maximize returns.
Give your engineers the cost intelligence they need to work seamlessly with finance and FinOps and maximize your cloud returns. This cost intelligence includes information on the cost of each feature, service, deployment, project, and environment.
With CloudZero, you can budget, forecast, allocate costs, and detect cost anomalies in real time. And, no. You don't have to take our word for it.
With CloudZero, Drift has saved almost $4 million on AWS costs. Most recently, Demandbase lowered its annual cloud bill by 36% and justified $175 million in financing. Many of our other clients, including Remitly, Obsidian, NinjaCat, and MalwareBytes, now save 6-10 hours each week managing cloud costs. You can, too.
to experience your new Cloud Cost Intelligence platform firsthand.