Over the next five years, the cloud computing market is expected to grow at a compound annual growth rate (CAGR) of 18.3%. Cloud-based services are becoming increasingly popular with businesses of all sizes, contributing to the growth of this market.
When you consider the other benefits involved, that makes a lot of business sense. Recent findings show that cloud services offer a number of advantages over traditional on-premises infrastructure, including superior scalability, resilience, and cost management.
Dive right in to get up to speed with the latest and greatest cloud computing market insights. We've included the following:
Table Of Contents
An Overview Of The Cloud Computing Market Right Now
The current cloud computing market is segmented on the basis of service, deployment mode, organization size, industry vertical, and region.
Based on service – the market is segmented into Infrastructure as a Service (IaaS), Platform as a Service (PaaS), and Software as a Service (SaaS). SaaS is by far the largest segment of the cloud computing market, followed by IaaS and PaaS.
Based on deployment mode – the market is segmented into public cloud, private cloud, and hybrid cloud. The public cloud is the largest segment of the cloud computing market, followed by private cloud and hybrid cloud.
Based on organization size – the market is segmented into small and medium-sized enterprises (SMEs) and large enterprises. Large enterprises are the largest segment of the cloud computing market, followed by SMEs.
Based on industry vertical – the market is segmented into BFSI, healthcare, retail, IT and telecom, manufacturing, government, and others. BFSI is the largest segment of the cloud computing market, followed by healthcare, retail, IT and telecom, manufacturing, government, and others.
Based on region – the market is segmented into North America, Europe, Asia Pacific, and the Rest of the World. North America is the largest segment of the cloud computing market, followed by Europe, Asia Pacific, and the Rest of the World.
7 Must-Know Cloud Computing Market Insights
Here are insights about the cloud computing market today that stick out.
1. The global cloud computing market size is valued at over $500 billion in 2023 (Precedence Research)
Globally, the cloud computing market will surpass $1 trillion by 2028 and $1.6 trillion by 2030. The global cloud computing market grew to $446.51 billion in 2022. According to the firm, the market will grow at a CAGR of 17.43% through 2030.
Credit: Precedence Research
2. Adopting the cloud could generate over $3 trillion by 2030 (McKinsey & Company)
By 2030, McKinsey predicts that cloud adoption among Forbes Global 2000 companies will generate an EBITDA value of over $3 trillion. Applying the same assumptions and value drivers to the Fortune 500 companies, the research firm estimates this group will generate an EBITDA value of more than $1 trillion in the same period.
3. The cloud computing market is dominating IT budgets over on-premises deployments (Source: Synergy Research)
A decade ago, companies spent over $80 billion annually on on-premises IT hardware and software versus $10 billion on emerging cloud infrastructure services. Today, on-premises spending is growing only 2% versus 42% annually to reach $227 billion in 2022.
4. Global spending on the public cloud will reach $600 Billion in 2023 (Source: Gartner)
The global end-user spending on public clouds is expected to reach $599 billion in 2023, an increase of $421 billion from 2021 and nearly $500 billion from 2022, according to Gartner estimates.
Credit: Global end-user cloud spend forecast 2021 -2023 – Gartner
According to the forecast, IaaS, DaaS, and PaaS will experience the greatest growth in spending.
5. SaaS dominates the public cloud services market (Source: Gartner)
Out of the $600 billion in end-user public cloud spend, the Software-as-a-Service (SaaS) market will be responsible for about $208 billion. It's over 30% on its own, and while IaaS, DaaS, and PaaS are growing rapidly, cloud application services will continue to dominate the cloud computing market.
6. Cloud-based workloads make up 75% of workloads in 1 out of 5 organizations (Source: Fortinet 2021)
The cloud is already running at least half of the workload for about 39% of respondents. In the next 12-18 months, 58% intend to run half their workload in the cloud.
Credit: Percentage of workloads running in the cloud in 2022
According to 31% of organizations, 75% of their workloads will be hosted in the cloud by 2023. By then, 27% plan to run at least 50% of their business processes in the cloud.
7. The cloud dominates workload processing (Source: Cisco)
In 2018, Cisco expected cloud-based data centers to process 95% of all workloads by 2021, superseding non-cloud data centers. It reported SaaS processes would account for 75 percent of the total workload.
In 2023, Cisco Systems revealed 91% of respondents in CloudOps and DevOps said their organizations had or planned to refactor their applications to use cloud-native technologies. Another 47% said a "cloud first" mandate was their "tipping point" for transforming development processes and tools.
In addition, Synergy Research revealed in July 2023 that hyperscalers and colocation providers now delivered 60% of data center capacity compared to the 40% in on-premises facilities.
Credit: Data Center Capacity Trends in 2023 – Synergy
What Are The Factors Limiting The Growth Of The Cloud Computing Market?
While there are a number of challenges in cloud computing, two dominate:
8. Managing cloud costs is the biggest limitation to cloud computing market growth (Source: Flexera)
Both enterprises and SMEs agree that managing cloud costs is their biggest challenge today, according to the State of the Cloud Survey.
CloudZero's State of Cloud Cost Intelligence Report found that only 1 in 4 organizations have their cloud costs around where they expect. Most respondents said the costs were a little higher than they should be or way too high.
Credit: State of Cloud Cost Intelligence
9. Cloud security concerns limit cloud adoption (Source: Check Point)
Check Point's 2023 Cloud Security Report reported that 76% of organizations are "concerned" or "extremely concerned" about security in their cloud environments. Another 24% have experienced a cloud security incident within the last year.
This makes sense, considering a single data breach could cost over $4.5 million dollars to resolve, according to IBM's 2023 Cost of a Data Breach Report.
To beat these challenges, many organizations are refactoring their workloads to work efficiently in the cloud. Here's how.
10. Cloud-Native Development Is driving growth in the cloud computing market (Source: Cloud Foundry Foundation)
Cloud-native development involves building, deploying, and running workloads, services, and applications that are designed specifically for cloud environments.
The Cloud Foundry Foundation revealed that 45% of organizations currently practice cloud-native development. Another 32% plan to do so soon.
What Are the Key Companies in the Cloud Computing Market?
The top four cloud service providers dominate the cloud computing market; Amazon Web Services (AWS), Microsoft Azure, Google Cloud Platform (GCP), Alibaba Cloud, IBM Cloud, Salesforce, Oracle Cloud, SAP Cloud Platform, and VMware Cloud.
11. AWS still dominates the cloud infrastructure services market (Source: Synergy Research Group)
Amazon's AWS has 32% of the market share today compared to Microsoft's Azure Cloud and Google Cloud Platform (GCP) with 23% and 10%, respectively.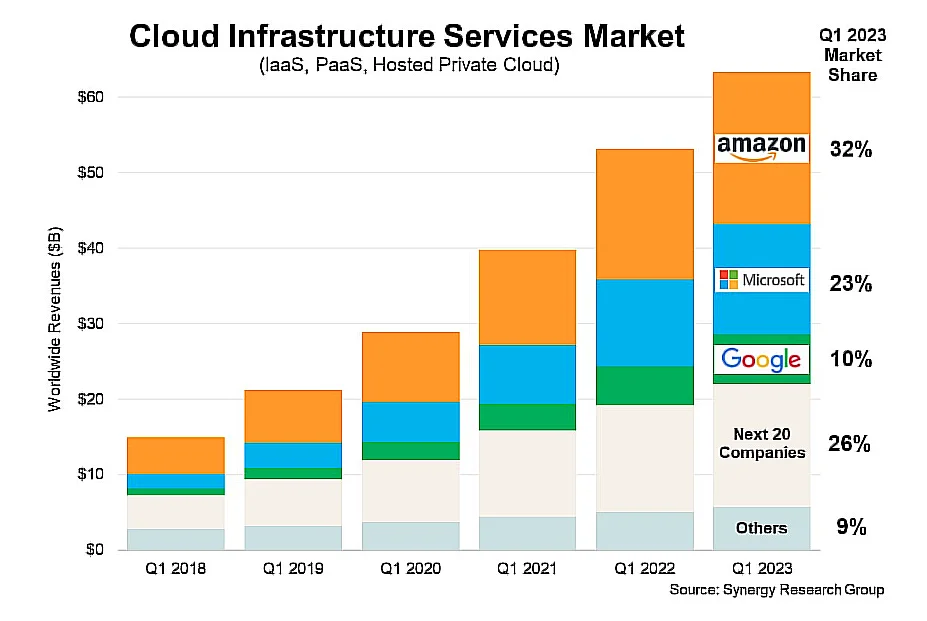 Credit: Cloud infrastructure services market share
Alibaba Cloud edges out of the top three with 9.5% of the market. However, in terms of IaaS, the Chinese giant ranks third globally and first in the Asia-Pacific region. AWS dominates in IaaS, Azure Cloud is the player to beat in PaaS, and Google Cloud stands out in the Artificial Intelligence (AI) and Machine Learning (ML) space.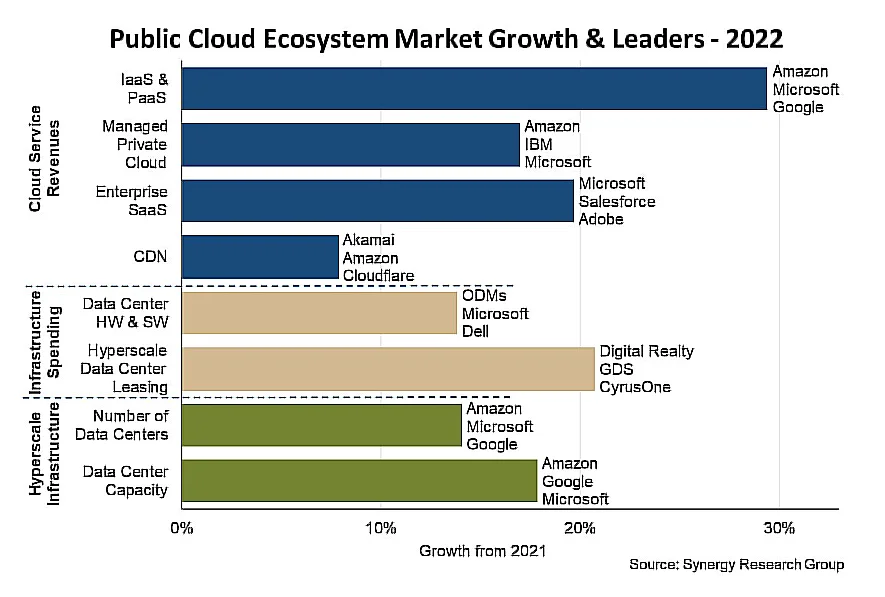 Credit: How the top public cloud providers share the cloud computing market size
12. Salesforce and Adobe are the largest SaaS companies in the world (Source: Mike Sonders)
Salesforce pioneered SaaS as we know it today 25 years ago, and had since dominated the sector by providing some of the best SaaS tools for businesses today.
According to Mike Sonders, Adobe recently overtook Salesforce as the largest public SaaS company worldwide by valuation although the latter still earns much more.
Credit: Mike Yonders
Mike Sonders estimates Adobe is now worth over $241 billion while Salesforce has a market cap of $220 billion in 2023. However, Salesforce generated over $31.4 billion in revenue for fiscal year 2023, representing an 18% increase over the previous year.
For fiscal year 2022, Adobe made $17.61 billion, an increase of 15% over the previous year. Check out our snackable guide to the best of the best SaaS companies today here.
13. Is Azure bigger than AWS in the enterprise cloud computing market? (Source: Flexera)
In 2022, IDC hinted at this, but the State of Cloud survey showed Microsoft Azure Cloud is attracting more enterprise subscribers than Amazon Web Services. According to the report, enterprises naturally adopt Azure since they already use Microsoft services and licenses, such as Windows OS and Office.
Wondering which top cloud service provider to choose now? Check out our AWS vs Azure vs Google Cloud comparison guide here. You can also compare AWS vs Azure if you've already narrowed your choices down to these two.
Cloud Computing Market By Region
North America and Europe dominate the cloud computing market, including in terms of number of companies and spending.
14. North America leads the global cloud computing market (Source: Various)
Picture this:
4 out of 5 top cloud service providers are based in the US alone. That includes AWS, Azure Cloud, GCP, and IBM
Out of the estimated 33,000 SaaS companies worldwide, the US is home to more than 17,000 of the SaaS providers
North America contributed 41% of revenues from the global cloud computing market in 2022, according to Precedence Research
Also, the US market in particular, helps the cloud computing sector grow by being early adopters of technologies such as AI, ML, Virtual Reality (VR), and other technologies, according to Grand View Research.
15. Cloud services are booming in China (Source: Canalys)
As the world's second-largest economy, China's cloud computing market size matters. It is also the leading market across the Asia-Pacific region. The size of the cloud computing market in China has grown exponentially in the last couple of years, too. Picture this:
Credit: Canalys estimates
China's overall cloud infrastructure spending in 2022 was $30.3 billion.
Credit: Cloud Channels Analysis by Canalys
This grew by 66% in 2020 over the previous year — $20 billion versus $11.5 billion in 2019. In 2023, Canalys predicts a 12% growth in cloud services spending.
According to BCG, the Asia Pacific region as a whole will generate over $200 billion to the global cloud computing market by 2024.
16. The European cloud market is still solid (Source: OVHcloud)
Here are some quick insights:
In Europe, the cloud computing market is worth €53 billion and is expected to grow to $300-500 billion by 2027, creating 500,000+ jobs, according to OVHcloud.
In 2023, IDC predicts that European cloud computing spending will reach $148 billion.
The size of the European cloud computing market has grown 5X since 2017. However, European cloud providers need to up their efforts or they may lose market share to US titans, according to Synergy Research Group.
Consider this:
Credit: Their share of the European cloud computing market is shrinking
Cloud Computing Market Insights By Industry
The technology sector dominates cloud adoption. Yet the digital transformation is happening across all industries, from manufacturing to healthcare. And this is helping grow the cloud computing market size.
17. 48% of tech companies invest in innovating cloud computing technologies (Source: Gartner)
In a survey of 268 tech company leaders, Gartner revealed that cloud computing dominated investment in tech innovation for 2021. Besides cloud computing, 35% of investments went to AI, 32% to software, and 15% to IoT.
18. The healthcare cloud computing market to grow to $201 billion (Source: GlobeNewswire)
Across the globe, cloud computing in the healthcare sector is estimated to surpass the $201 billion threshold by 2032, sustaining a CAGR growth of 17.6%.
Credit: Growth in the size of the global cloud computing market in a decade
19. More than one-third of commercial real estate leaders say they'll invest in cloud computing (Source: Deloitte)
The Deloitte survey asked 400 commercial real estate professionals what technologies they intended on investing in. The executives agreed that cloud computing was the top priority — over blockchain, AI, and data analytics.
20. The rise of Artificial Intelligence (AI), Machine Learning (ML), and the Internet of Things (IoT) continues (Source: Cisco)
A Cisco survey found that respondents were interested in a number of these technologies, citing their potential to enhance hybrid and multi-cloud use cases. Among these are infrastructure automation (49%) and edge computing (41%), as well as composable infrastructure (27%).
Infrastructure as code (IaC) is also becoming more popular for security and efficiency reasons:
Credit: Global Hybrid Cloud Trends Report on IaC
21. The video streaming market may exceed $6 billion in value by 2024 (Source: Newzoo)
Cloud gaming represents a tiny portion of the gaming market today. But it's expected to grow 4X in three years from its $1.5 billion market value in 2021. The top cloud gaming services to help drive the growth include PlayStation Now, GeForce Now, Xbox Cloud Gaming, and Amazon Luna.
What Is The State Of The Enterprise Cloud Computing Market?
The enterprise sector drives the most growth in the cloud computing market. Here are some interesting findings:
22. Microsoft leads the enterprise SaaS provider market (Source: Synergy)
The company holds a 17% market share and is growing at an impressive 34% per year, mainly because it dominates the increasingly important collaboration, productivity, and PaaS markets.
Salesforce ranks second with a 12% share of the enterprise SaaS market and a 21% annual growth rate. Adobe follows closely with a 10% share and 29% annual growth rate.
The next vendor on the list is SAP, with a 6% share and 39% growth. With a 6% market share, Oracle rounds out the top five and reports a 29% growth rate.
Credit: Synergy Research Group
23. The average enterprise has embraced hybrid cloud deployments (Source: Flexera)
Today, enterprises use an average of 2.6 public clouds and 2.7 private clouds. Something else. These large organizations are also exploring how to incorporate an additional 1.1 public clouds and 2.2 private ones.
24. A third of enterprises spend at least $12 million annually on the public cloud (Source: Flexera)
According to the same survey findings, 30% of enterprises spend $2.4 to $12 million, while 11% spend $600,000 or less.
What Cloud Services Do Organizations Use In The Cloud?
Cloud computing enables organizations to run a wide variety of services. Also, the most popular cloud services are continually evolving to meet market demands.
25. Data warehouse, relational databases, and push notifications are the most popular cloud services today (Source: Flexera)
The 2023 survey concluded the three services dominate above others, such as NoSQL databases (NoSQL DBaaS), container-as-a-Service (CaaS), and mobile services. However, most organizations are experimenting with AI and Machine Learning, disaster recovery, and edge computing services.
Among the services most respondents plan to explore are ML and AI, disaster recovery, and serverless services. Check this out:
Credit: Most popular cloud services today – Flexera
Cloud Computing Market By Deployment
Consider these findings:
26. Hybrid cloud deployments are common now (Source: Cisco Systems)
Only 8% of respondents said they relied on a single public IaaS cloud provider in 2023. The research came from 451 Research, on behalf of Cisco. It also showed 82% of the 2,500 IT leaders across 13 countries had embraced the hybrid cloud strategy.
Credit: Cisco Global Hybrid Cloud Trends Report
That's not all. A startling 92% use more than two public cloud providers (multi-cloud). Most respondents said they were using multiple clouds to boost security, secure agility, and tap innovative cloud services by different providers.
Credit: Cisco Systems
27. Public cloud deployments dominate the cloud computing market (Source: Flexera)
The survey found that all organizations use at least one cloud. Nearly all (96%) of respondents rely on at least one public cloud. More than 4 out of 5 use at least one private cloud. Picture this:
Credit: 2023 State of the Cloud Report
COVID Impact On The Cloud Computing Market Size
During the pandemic, cloud adoption accelerated across all sectors in order to support remote working, collaboration among distributed teams, data backup, and disaster recovery. There's more.
28. Cloud computing market accelerated exponentially in Europe (Source: OVHcloud)
A massive 82% of decision-makers in the OVHcloud survey said they increased cloud usage to directly respond to the pandemic. They also said cloud infrastructure proved to be vital infrastructure that enhanced resilience.
29. The cloud infrastructure market exceeded $129 billion in 2020 (Source: Synergy Research Group)
Market growth in 2020 mirrored society as a whole, with the richest players getting richer and the poor getting poorer. It grew by $32 billion from around $97 billion in 2019. In the fourth quarter, the market reached $37 billion, an increase over the third quarter's $33 billion, and up 35% compared to 2019.
The Latest Trends In The Cloud Computing Market Today
We'll continue to see changes as the cloud computing market evolves. The following are just a few trends making waves right now.
30. The remote desktop market to exceed $4 billion in three years (Source: Research and Markets)
The remote desktop software market includes sales from organizations, sole traders, and partnerships. The tools enable local users to access a remote computer's desktop environment and resources remotely, which can further facilitate remote working and technical customer support.
31. Serverless computing market to boom through 2030 (Source: MarketWatch)
Serverless computing has gained popularity since it minimizes the hassle of provisioning, configuring, deploying, optimizing, and maintaining physical servers within a data center. Instead, serverless providers offer scalable computing capacity to organizations that prefer to focus on optimizing their applications rather than on the handy work.
32. The rise and rise of the edge computing market is inevitable (Source: IDC Research)
Edge computing involves processing data closer to its source, which enables faster processing speeds and leads to faster actionable outcomes in real-time.
Around 33% of all workloads could run at the edge by 2025. Some of tech's biggest names are paying attention, too.
Microsoft CEO, Satya Nadella, has recently described how edge computing helped Microsoft prepare for the future.
In his keynote address at Dell Tech World, Michael Dell forecast investments in edge infrastructure would reach $700 billion over the next decade.
According to IDC, spending on hardware, software, and services related to edge computing will exceed $250.6 billion by 2024. Companies in the industrial, energy, and transportation sectors are already reaping the benefits, according to the findings.
33. Green computing market
Green computing is about making cloud computing energy-efficient and eco-friendly, considering the current global warming situation. According to some estimates, green computing could reduce carbon emissions by 7%.
Here are some examples of what's happening now:
Adopting energy-efficient chips, such as those from IBM and Samsung, which are 85% more energy-efficient than scaled finFET transistors.
Using liquid-cooling and cool ambient air for large data centers.
Leveraging NVIDIA DGX A100 graphics chips that are 5X energy-efficient than traditional ones.
Using products and electronics that meet the EPEAT criteria. The Green Electronics Council says it's helped save nearly 400 million megawatt-hours with the 1.5 billion green products it has recommended so far.
Meeting a number of ISO standards; the ISO 14000 certification for environmental management systems, the ISO 50001 specification for energy management systems, the ISO 50002 standard for energy audits, and the ISO/IEC 33000, a standard developed by ISO and IEC's joint technical committee to assess IT processes.
Now, here's the deal.
Want To Waste Fewer Greens On Your Cloud Computing Needs? CloudZero Can Help
You could be saving $2.4 million annually like Drift, reducing your annual spend by 36% like Demandbase, and saving 10 hours a week managing cloud costs like MalwareBytes, while the average organization loses 32% of their cloud budget (as it happened in 2022).
With CloudZero, you can also be one of the 4 out of 10 organizations that know where their cloud spend is going.
CloudZero helps you understand your multi-cloud costs down to the specific people, products, and processes that drive them. Think: cost per individual customer, per product feature, per environment, per team, per project, and more. Consider this:
Oh, CloudZero lets you see all your AWS, Azure, and GCP costs with just one tool, and consistently so — even when viewing your costs by per pod or per hour in Kubernetes, like this:
And, instead of this:
With CloudZero, you can understand your Cost of Goods Sold (COGS) like this:
You don't even need perfect tags to get all this cost intelligence at your fingertips. CloudZero helps you capture the costs of tagged, untagged, and untaggable resources, as well as shared resources, without endless tagging.
Ultimately, CloudZero helps you detect cost anomalies in real-time and sends you timely, context-rich alerts straight to your Slack so you can stop the bleeding ASAP.
By taking advantage of this, you can avoid cost overruns and protect your margins.
Sound like a plan? {{cta('566b84f4-56e7-42ab-80b